Frequently asked questions
Do I have to subscribe?

No! Whilst our subscription offering is the most convenient way to automate your deliveries, you can always just order when you feel like it on a One-Time purchase basis.
Can I cancel or skip my subscription at anytime?

Yes, you can cancel or skip any subscription order anytime before your next billing date. Your next delivery date is always 7 days after the billing date.
Can I change the recipes?

Unfortunately, due to UK labelling laws we are unable to add or remove any ingredients upon request. We will be adding more flavours and changing the recipe going forward.
Can I change my delivery date?

Yes, as long as we've not yet packed and sent your order. Generally speaking once you receive a notification from DPD to say that it's on it's way then it's past the cut-off. 
What about all the packaging?

The RecyCoolBox and insulation is 100% plastic free, compostable, plant based, organic and Kerbside Recyclable. Read more about our supplier at CoolBox Solutions, a fantastic company with fantastic people, really making a a positive impact to the environmental impact of insulated packaging.

Our wooden calzone trays provided by Panibois are biodegradable making them fine for recycling or your home compost heap. 

Our Gel Packs are provided by Thergis. Once defrosted cut open the pack and pour the non-toxic solution down the drain. Rinsing with hot tap water will help dissolve the gel faster. The LDPE 4 labelled plastic outer can be recycled according to your local recycling regulations
Can I freeze my calzones?

Our calzones freeze excellently. Just defrost them in the fridge and cook from chilled rather than from frozen. 
How long will my calzones last in the fridge?

Each package that you receive in the post will have a use-by-date printed on it, the minimum chilled life after arrival is 3 days but often more. You can always freeze any calzones that you don't manage to eat before the use by date.
What if I'm not home for delivery?

Don't worry, at the time of ordering we'll ask you for a "safe place" for the delivery driver to leave your package if you're not at home. This is mandatory as we're unable to accept returns unless your order isn't as promised. 
Gluten free calzones?

Unfortunately we don't currently have the facilities to offer Gluten Free calzones. 

The reality of safely providing GF portions, for us as a small independent business with a single kitchen space is challenging at this time. However it is something we're thinking about a lot. 
Get all of this included as long as you stay subscribed
TCK SUBSCRIPTIONS
0

Save over 13% and secure our best prices every order.

SAVINGS

0

Get regular deliveries every 2,4,6 or 8 weeks.

Automate

0

Get guaranteed access to our monthly test box at a discounted rate of 20% (we often sell out to members and don't release these to the public).

ANNUAL MEMBERSHIP

0

Get a free jar of TCK Garlic Mayo in your first subscription order.

Free Garlic Mayo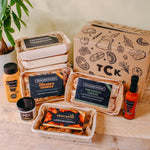 CREATE TCK
Create TCK brings you into the creative process, getting access to pre market products and 20% discount off test boxes and the opportunity to provide feedback on your experience, ensuring that the products that we launch are the products that you love!
If you sign up for a subscription today you get a free garlic mayo on your first order, 13% off and Create TCK membership worth £24.99 as a free bonus (as long as you stay subscribed).
Order Calzones